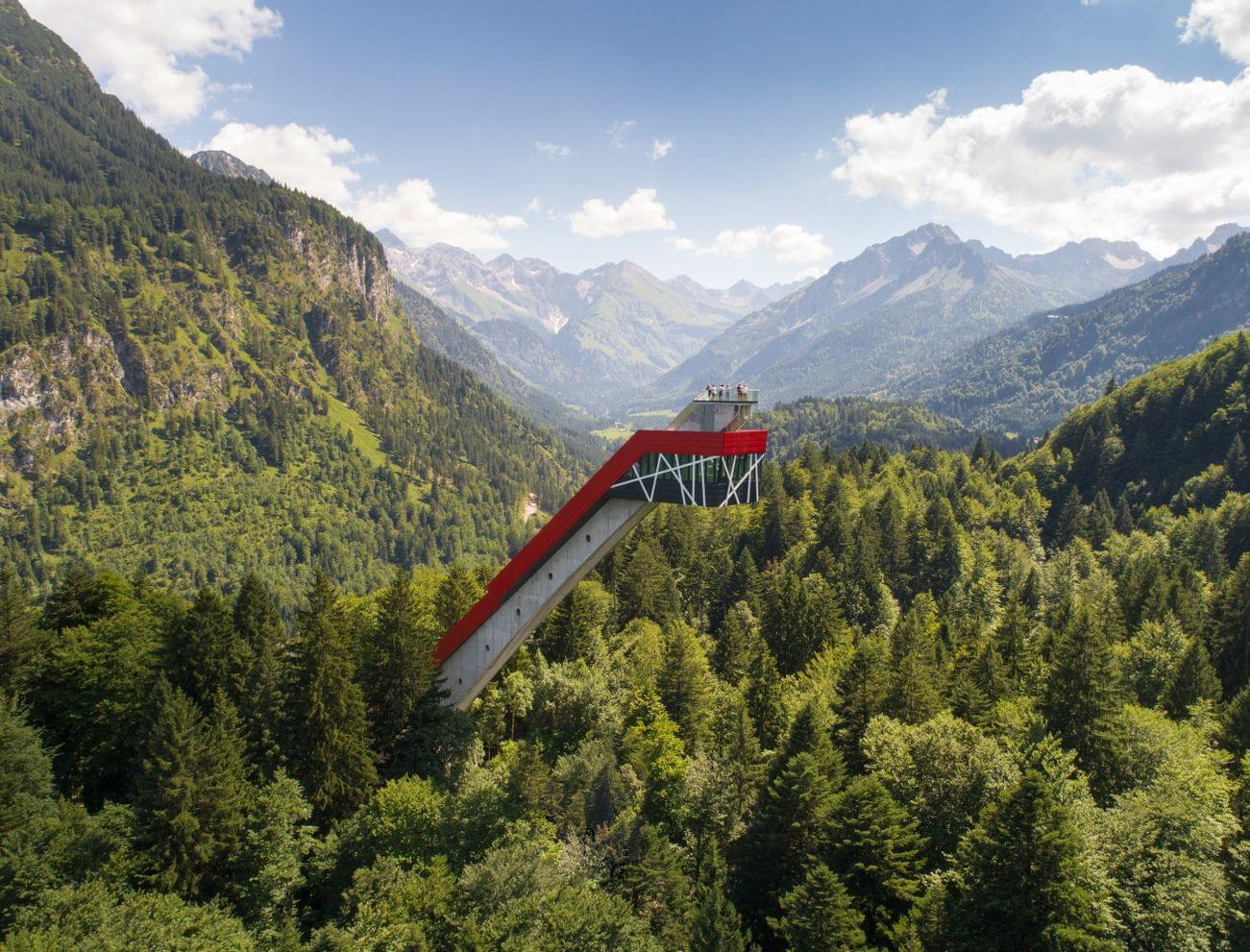 The ski jumping hill in Oberstdorf
Heini Klopfer Ski Jump Oberstdorf
Feel like a real ski jumper! And dive into the world of ski jumping and flying.
The legendary Heini Klopfer Ski Jump, which was fundamentally rebuilt and modernised in 2016 and 2017, is honouring its reputation. As one of the largest ski jumping installations in the world, it has a new barrier-free inclined elevator. This makes it easy to get to the "foot" of the jump tower. From here you have a view over the entire terrain and have a spectacular view over the Stillach Valley, the Freibergersee and the Oberstdorf mountains. Enjoy a unique panorama from the top of the "leaning tower of Oberstdorf" - as the Oberstdorfers affectionately call it - and take a breath of real world champion air.
With a total size (Hillsize HS) of 235 m and a height of 72 m (highest point over terrain), visitors experience first-hand what goes through the mind of an athlete when he sits here on top of the beam. The nickname "leaning tower of Oberstdorf" is attributed to its freely projecting reinforced concrete construction.
The ski jump was originally designed by three Oberstdorf ski jumpers Sepp Weiler, Toni Brutscher and the architect and ski jumper Heini Klopfer (1918 - 1968), who took the first jump from here on February 2, 1950. In his honour, the Heini Klopfer Ski Jump still bears his name, although the current approach tower was rebuilt in 1973 and has been constantly modernised since then. To this day, the architecturally unique ski jump, which is held exclusively at the height of the jump platform with rock anchors in the mountain, is regarded as a static masterpiece. So it is not surprising that Oberstdorf was awarded the 2021 Nordic World Ski Championships at the FIS Congress in Cancún, Mexico in 2016.
Opening hours:
April to October daily from 9:30 am am to 5:30 pm
November to March daily from 09:30 am to 4:30 pm
Family holidays in Oberstdorf
Relaxation at the Alphotel family hotel
How many ski jumps are there in Oberstdorf?
When can you visit the Heini Klopfer ski jump?
Which ski jump is the largest in Germany?