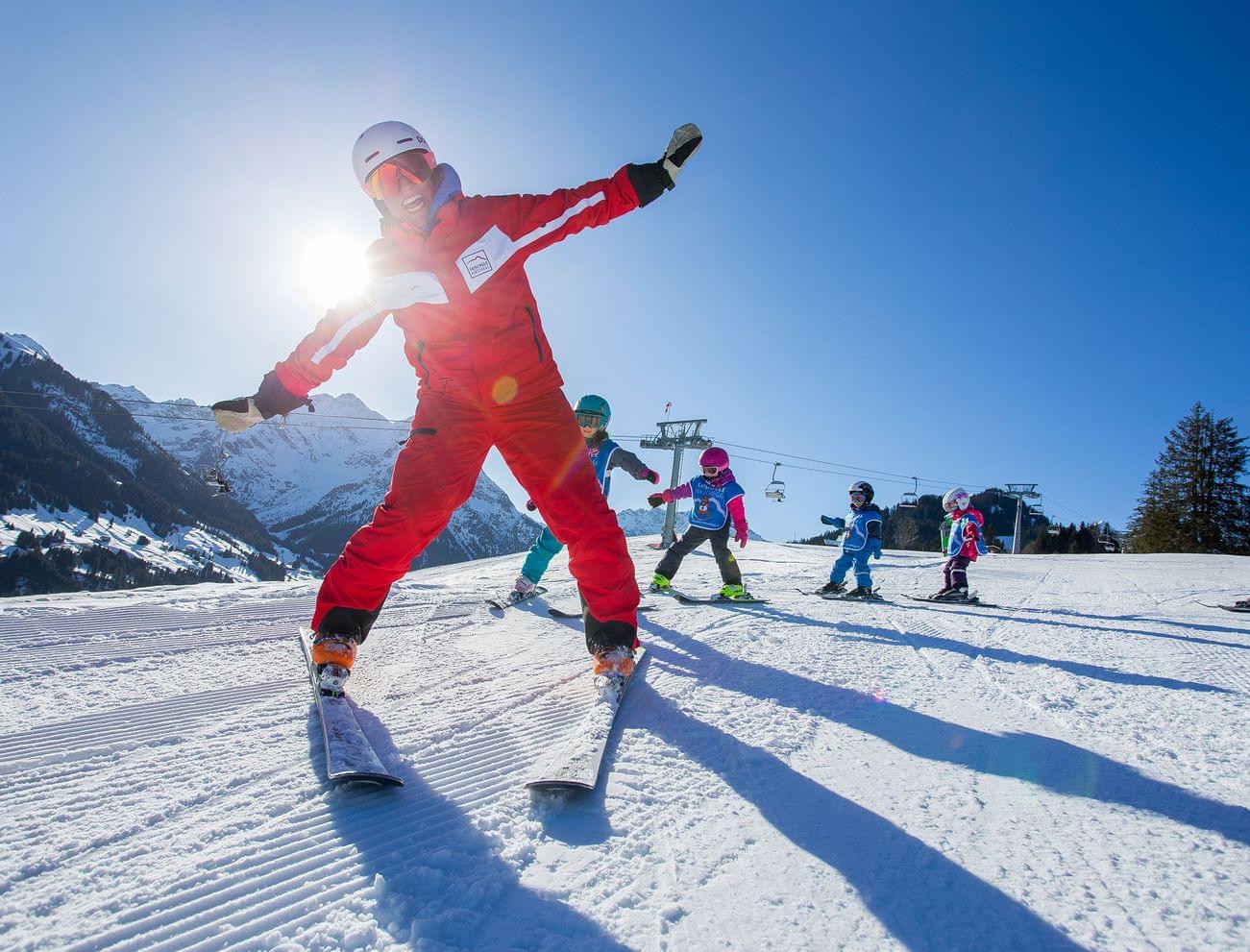 The ski school Kleinwalsertal
Our ski school in Hirschegg
Only about 300 metres below the Alphotel in the Kleinwalsertal valley, the Hirschegg Ski School, led by Tom Egger, awaits your kids with its trained ski instructors. The ski school offers performance-oriented children's group courses from the age of 3 years. In order to make it as easy as possible for the parents and so you have a pleasant day of skiing, we will take your ski kids to and from the ski school with our hotel shuttle upon request. Pick them up yourself? Or take them? No longer necessary! (There is a charge for this service)
Of course, at the end of the week all the children will compete in the traditional ski race and fight for the podium places.
Please remember to reserve your desired ski course online at the Hirschegg Ski School. Ideally, the main holiday periods on New Year's Eve and in February should be booked up to 3 months in advance.
Ski courses and prices 2022/23
"Burmiclub" half-day ski course for children from 3-4 years
The Burmiclub is a two-hour course for the youngest ski beginners from 3 years of age. It is the ideal mix of play and activity, without it becoming too strenuous for the little legs.
Experienced ski instructors inspire the children with imagination and a lot of sensitivity for winter sports. Then the first steps are taken on two skis and gliding in the snow is practised. They get support from Burmi the marmot. The Kleinwalsertal mascot accompanies the children through their first ski adventure.
6 days from Sun. to Fri.: 342.00 Euro
5 days from Mon. to Fri.: 265.00 Euro
Course hours: Sun. - Fri. 10:15 am - 12:15 pm
Due to the positive experiences from last year, the Burmi Club also takes place in the snow-sure children's area at Ifen of our partner, the Hirschegg ski school.
Full-day ski course
for children 4-14 years of Sun./Mon. until Fri.
For children aged 4 years and older, full-day classes are available in all levels. The groups are divided according to skill and age, so that each child's start is as easy as possible or they can build perfectly on previous knowledge. The lunch service with catering is included. This way our ski instructors are more flexible and can design the ski lessons with maximum learning progress, fun and experience in the snow.
Beginner children and slightly more advanced children are looked after in our exclusive children's world on the premises. Modern tools and playful methods enable them to practise your moves at their own pace and improve coordination. In a safe environment, children can try new things, regain confidence and discover skiing for themselves.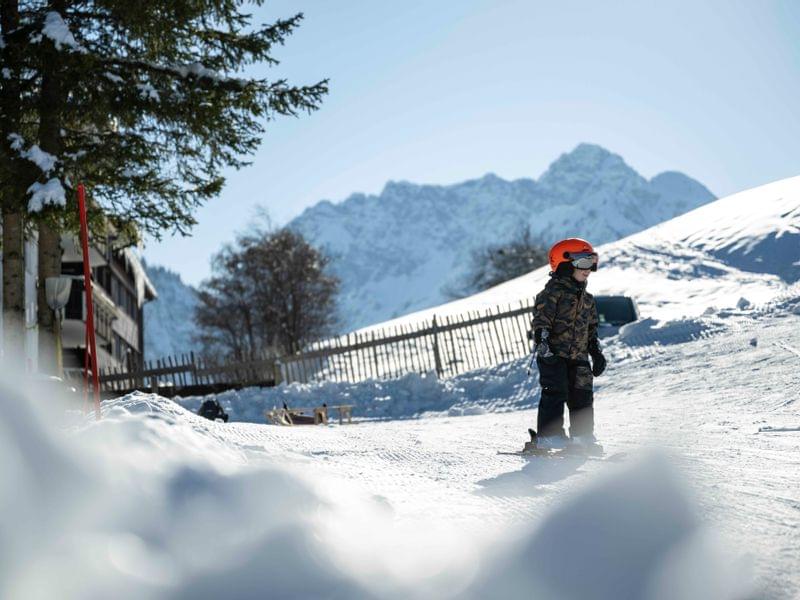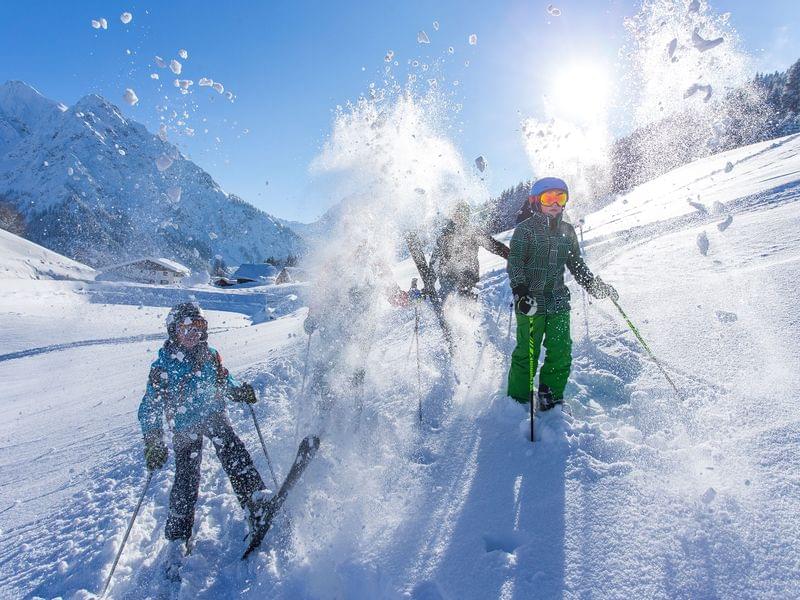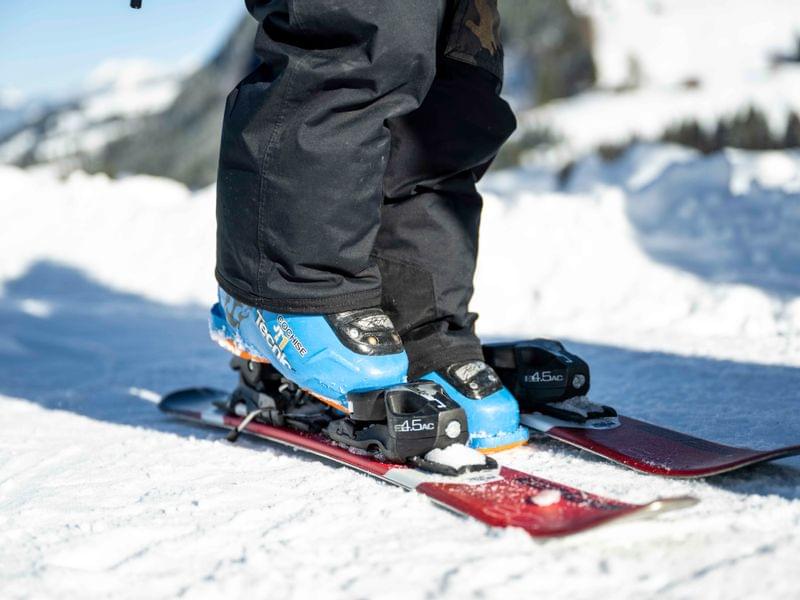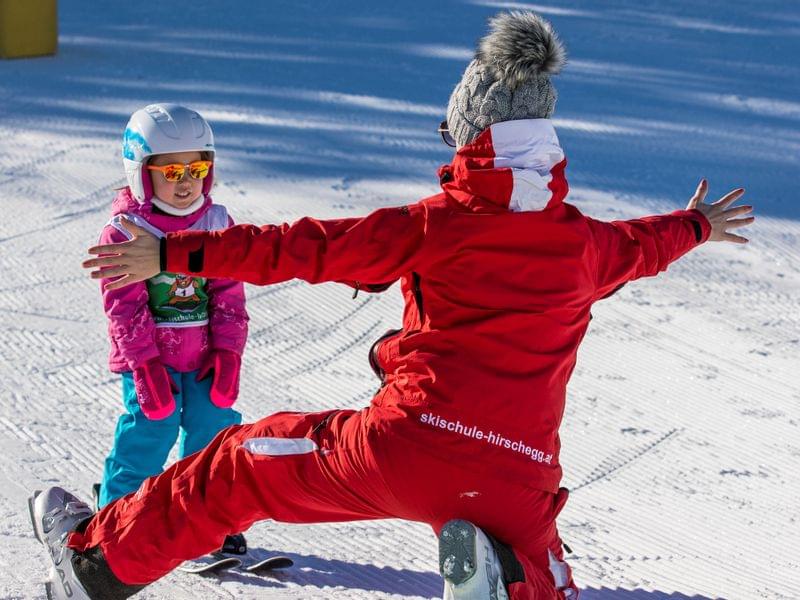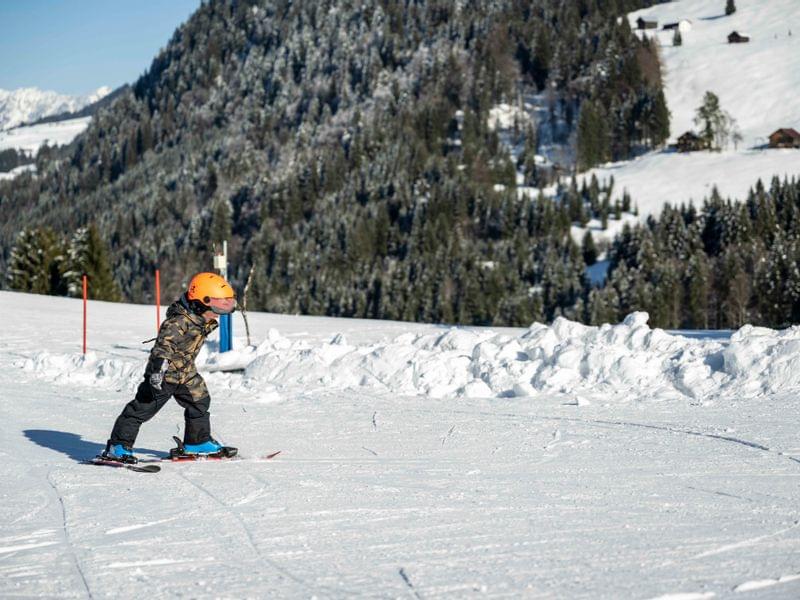 Advanced children conquer the Kleinwalsertal ski resort
With new training programmes and on slopes with different levels of difficulty, they are further developing their driving technology. They also learn how to behave safely on the mountain. Different focusses are set according to age and ability.
Highlight: Everyone is a winner in the weekly ski race on Friday.
6 days from Sun. to Fri.: 453.00 Euro
incl. lunch and lunch care by the ski instructor
5 days from Mon. to Fri.: 396.50 Euro
incl. lunch and lunch care by the ski instructor
Meeting point from 09:45 at the ski school Hirschegg at the Walserhaus
Course hours Sun. - Fri., 10:00 am to 3:00 pm including lunchtime daycare and food (food & drink)
Ideally, the children should have a ski pass for the duration of the course!
Book your ski course online!
Benefit from the advantages of ordering your ski course online at the Hirschegg Ski School:
You'll save yourself waiting in line
Your course is reserved for you
(A service of the ski school Hirschegg. If you have any questions or problems, please contact the Hirschegg Ski School directly at: +43-5517-5794)
Private ski courses
Private lessons in all snow sports
Tailor-made lessons for your needs. The best way to make great progress in a short time. They also enjoy maximum flexibility in day-to-day planning. We offer private lessons for all ages and driving abilities. No matter if you are skiing, snowboarding or cross-country skiing.
Private lessons are also ideal for getting to know the Kleinwalsertal ski area together with family and friends and for getting first-hand tips. Also note our Ski Plus offers, special experiences for advanced skiers.
Are you looking for a special off-piste mountain experience? Our state-certified ski and mountain guides will take you on a freeride or ski tour.
If your desired date for private lessons cannot be booked online, please contact the ski school by phone at +43 5517 5794.
Meeting point: Ski school Hirschegg
1 day (4 hours) for the 1st person from 305.00 Euro
1/2 day (2 h) for the 1. person from 163.00 Euro
Frequently asked questions with answers from the Hirschegg Ski School
ARE THE RATES DIFFERENT IF YOU FIRST BOOK A COURSE FOR 3 DAYS AND ADD ANOTHER 2 DAYS LATER?
CAN YOU MAKE IT IN TIME WHEN PARENTS AND CHILDREN GO TO THE SKI COURSE?
DO WE HAVE TO TAKE THE WHOLE (5) 6 DAYS COURSE OR CAN YOU ALSO TAKE FEWER DAYS?
CAN OUR CHILDREN JOIN A GROUP TOGETHER?
ARE THERE ANY HALF-DAY COURSES?
DO NEWCOMERS NEED A SKI PASS?
IS THE SKI PASS INCLUDED IN THE SKI COURSE?
IS IT POSSIBLE TO PAY THE COURSE FEES BY CREDIT CARD?
IS THE WALSERBUS FREE TO USE?
DO THE SKI COURSE DAYS HAVE TO BE TAKEN IN A ROW?
DOES IT REQUIRE A PRE-RESERVATION FOR GROUP COURSES?
DO YOU HAVE DUTCH-SPEAKING INSTRUCTORS, TOO?
WHY DON'T YOU OFFER A HALF-DAY COURSE IN THE GROUP?
AT WHAT AGE CAN THE CHILDREN TAKE A SKI CLASS?
IS IT POSSIBLE TO BOOK LUNCH SERVICE FOR INDIVIDUAL DAYS?
HOW EARLY DO WE HAVE TO RESERVE A PRIVATE INSTRUCTOR?
IS IT ALSO POSSIBLE TO BE TAUGHT BY A PARTICULAR INSTRUCTOR?
CAN I ALSO JOIN A COURSE DURING THE WEEK?
CAN I CHANGE THE COURSE IF I DON'T LIKE IT? FOR EXAMPLE: FROM SNOWBOARD TO SKI COURSE?
DO YOU GET YOUR MONEY BACK IF THE CHILDREN DON'T LIKE IT?
HOW DO YOU DIVIDE UP THE GROUP?