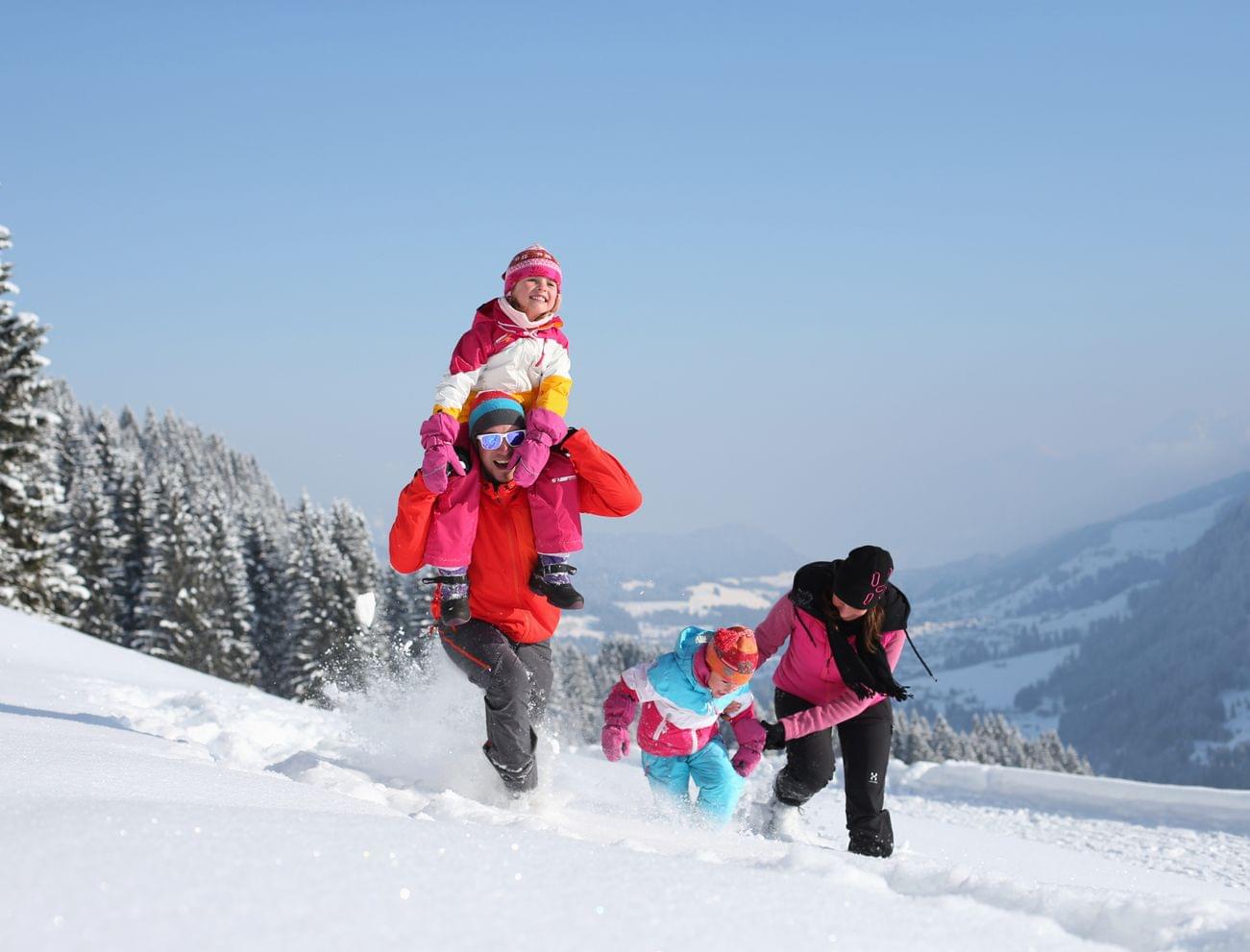 Your children's hotel in Austria
The Alphotel - your 4-star child-friendly hotel
Welcome to the family-friendly hotel in Austria with 4-stars. And 5 crowns. Because the crown rating is considered a quality factor for the companies of the Familotels in Germany and Austria. The amount of crowns is the indicator of how much the hotel has to offer for families. The Alphotel family-friendly hotel in Vorarlberg with its 5 crowns belongs to the premium class of the Familotels.
This starts with the accomodation, continues with the culinary offers and the leisure and play programme and ultimately ends with the extremely high safety standards. All rooms and family apartments are therefore carefully designed and equipped. From rooms that can be darkened and child safety plugs to high-quality baby equipment. Due to personal experience with our own children, we were able to design the rooms functionally and still modern and cosy for you. We also offer our own baby food menu with high-quality HIPP products.
Your children can enjoy the family holiday in the Kleinwalsertal valley, play, hike, ride a mountain bike, tobogganing, skiing or visit the snowpark at the 4-star hotel with mum and dad - a holiday at the Alphotel means valuable family time.
The advantages of the 4-star child-friendly hotel in Austria
Children at the Familotel Alphotel
The Familotel Alphotel is a paradise for children. In addition to the spacious family apartments, guests of all ages, can also enjoy culinary delights. For parents there are free coffee specialities all day, for the kids, non-alcoholic drinks from our drinking fountain. In addition to the generous breakfast and brunch buffet there is a hiking or skiing snack to go and a lunch snack included in the package. In the afternoon, you can enjoy coffee and cake, as well as a snack with regional cheese and meat delicacies. Then in the evening, a 4-course menu awaits you. There is a children's buffet that changes daily for the kids - and delicious HIPP baby food for our youngest guests.
Children's offer at the 4-star family hotel in Austria
Kids Club and childcare times
Both in summer and winter there are several hours of daily care for babies and toddlers. In addition to the possibility of using a baby phone, we also provide complete baby equipment free of charge, such as baby joggers, prams with lying position, baby chair, baby rocker, cot, diaper pail, changing pad, kettle as well as hotplate with pot.
In addition, there is a children's indoor facility with soft play, Playstation, table football and crafts station on over 200 m² as well as the toddler ski school area with magic carpet directly at the hotel. The ski school is also within walking distance - and the entrance to the Kleinwalsertal valley ski area with 130 kilometres of pistes and 48 mountain lifts Ski Out is right at the doorstep of your hotel. And last but not least, after an eventful day of adventure, head to the in-house indoor pool with children's paddling area!
Parents' offer at the 4-star family-friendly hotel in Austria
Wellness, treatments & more
So that the grown-ups can also fully enjoy their well-deserved holiday, the 4-star family hotel in Austria is also perfect for a parental holiday. Therefore, on the one hand, there is free Wi-Fi for a potential home office session in all rooms. On the other hand, we also offer childcare during dinner times for kids from 2 years of age or for babies a free baby phone so that mummy and daddy can once again celebrate delicious date nights.
In order to find your inner self and relax and regenerate your senses, an extensive range of sauna and other treatments awaits our guests - from pampering massages and beauty treatments to vinoble treatments. Let yourself be pampered. Mums-to-be are very important to us. A pregnancy and baby massage is good for both mum and baby. So that the baby-moon becomes a nice experience for the whole family.
Which child-friendly hotel in Austria with 4-stars is ideal for a holiday with the family?
What advantages and offers does the Alphotel offer for children and parents?
Where to go on holiday with the children in Austria?
Which child-friendly hotel in Austria is open all year round?