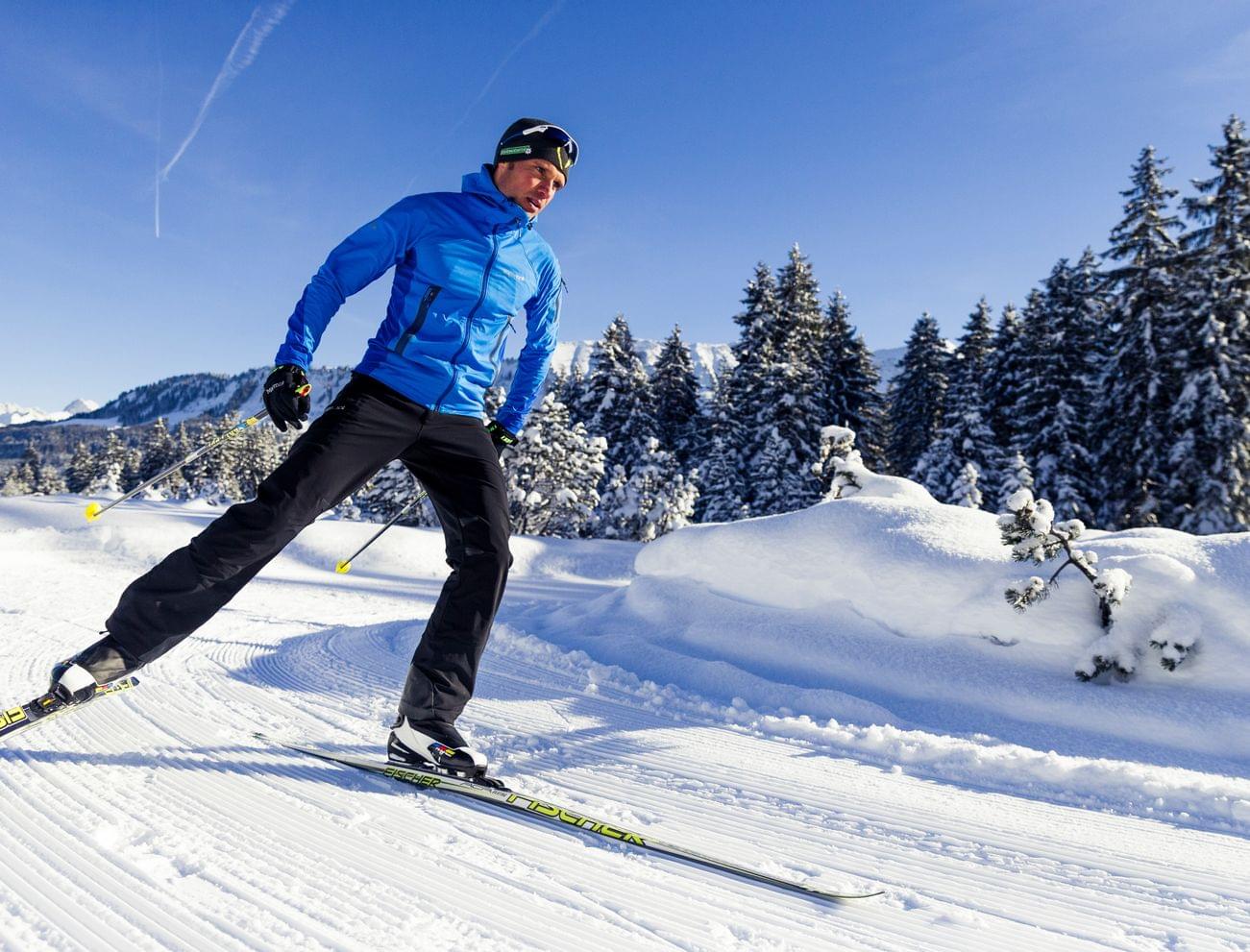 Cross-country skiing in the Kleinwalsertal valley
The trails in the Kleinwalsertal valley
Is cross-country skiing your favourite winter sport? Or at least an exciting and vital alternative on ski-free days? Cross-country skiing is one of the main themes at the Alphotel.
In the Kleinwalsertal valley in Austria you will find excellent cross-country skiing routes with a breathtaking mountain panorama that makes winter sports enthusiasts' hearts beat faster. Because the Kleinwalsertal has four classic trails with a total length of 45 km at an altitude of 1050 and 1260m. The entrance to the central trail is about 750 metres from the Alphotel.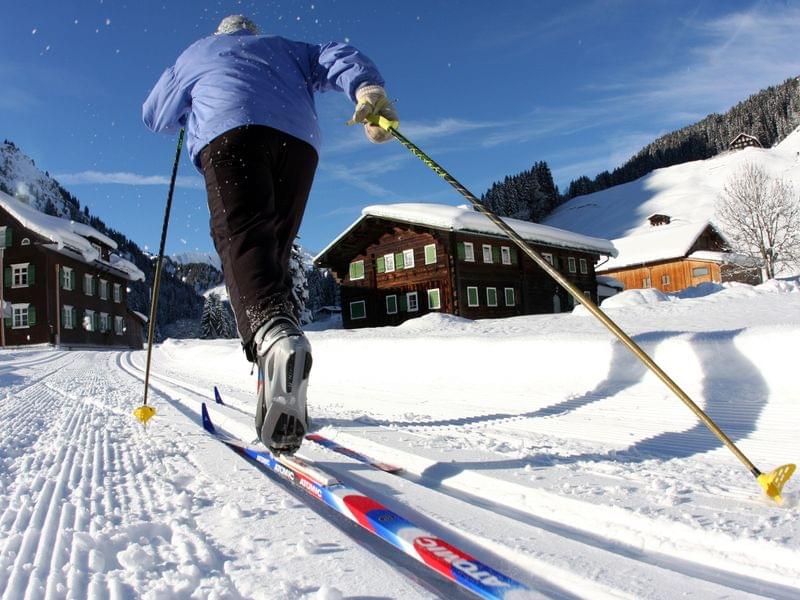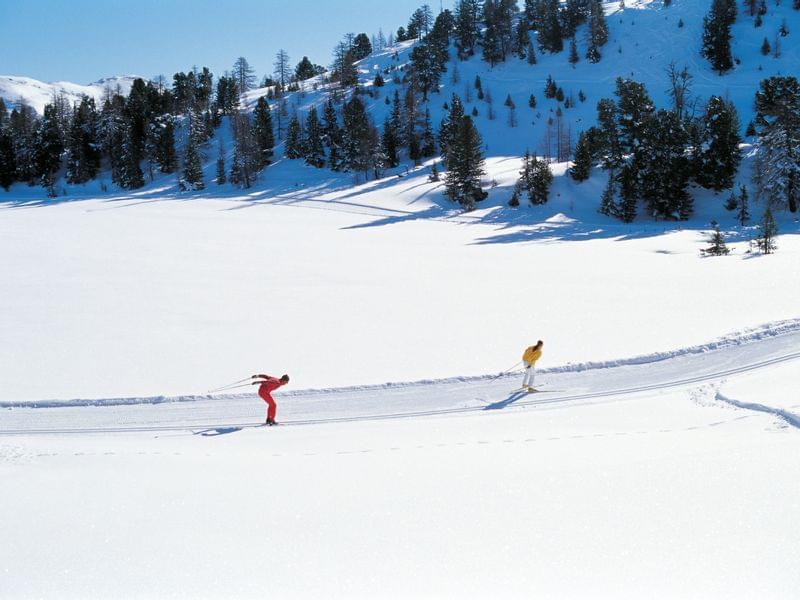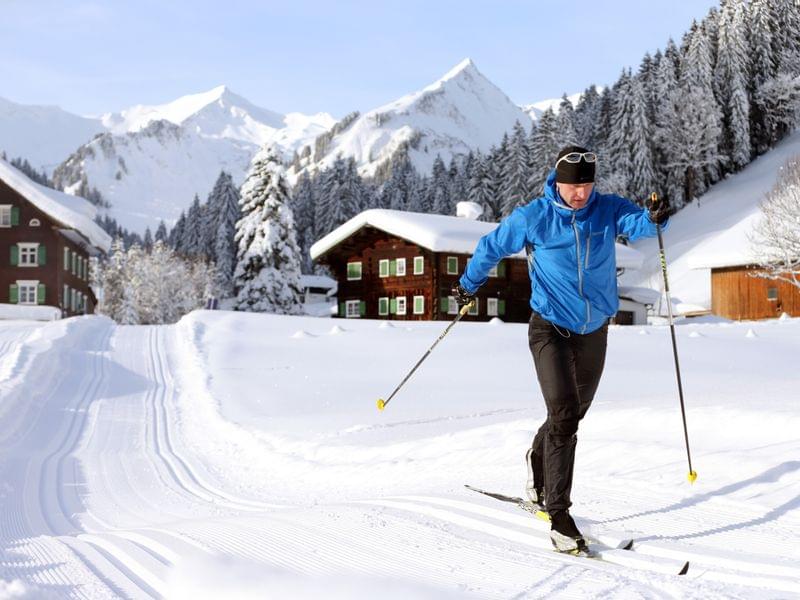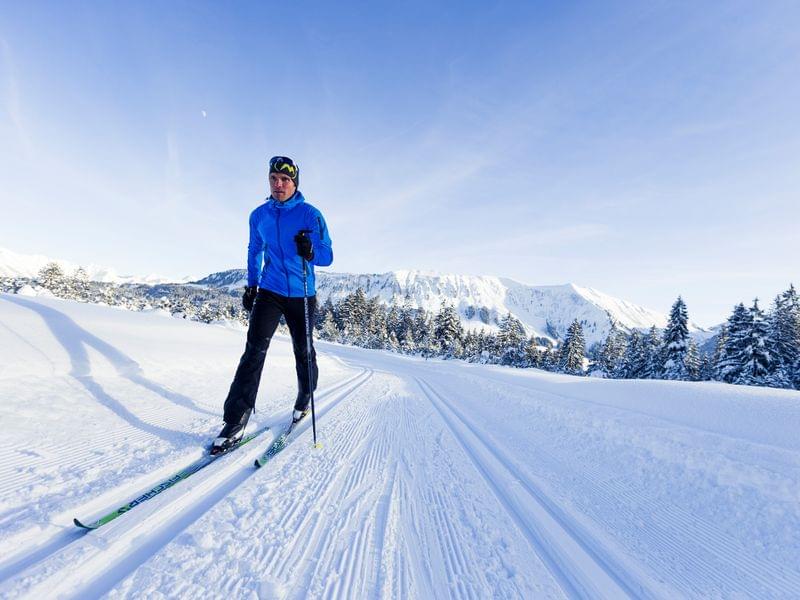 Cross-country paradise Kleinwalsertal

The trails in the Kleinwalsertal valley
Cross-country skiing on freshly groomed trails. Cross-country skiing in the Alphotel means enjoying cross-country skiing for you. Cross-country skiing in the Kleinwalsertal valley also takes skill! Only those who know the basic skills of cross-country skiing can have fun cross-country skiing without danger. For cross-country skiers it is advantageous to have the basic concepts of alpine skiing under your belt. It is especially important to master the snowplow Cross-country skiing courses are offered in the Kleinwalsertal valley ski schools if required. Cross-country skiing equipment can also be rented from the ski rental companies. The sports shops in the Kleinwalsertal valley are also well versed in cross-country skiing, carry all equipment and gladly advise you.
The Kleinwalsertal valley scores big with snow reliability when it comes to cross-country skiing in Vorarlberg and cross-country skiing in Austria, with the Steinbock trail even being snow-covered. The trails in the Kleinwalsertal valley are groomed daily, but for safety reasons they are groomed only at night. All cross-country trails are accessible on foot or by Walser bus - the parking spaces are subject to a charge.
Cross-country skiing in the Kleinwalsertal valley
The cross-country trails at a glance
Where can you go cross-country skiing in Kleinwalsertal?
How many cross-country ski trails are there in Kleinwalsertal?
How much does it cost to use the cross-country ski trails in Kleinwalsertal in Vorarlberg?