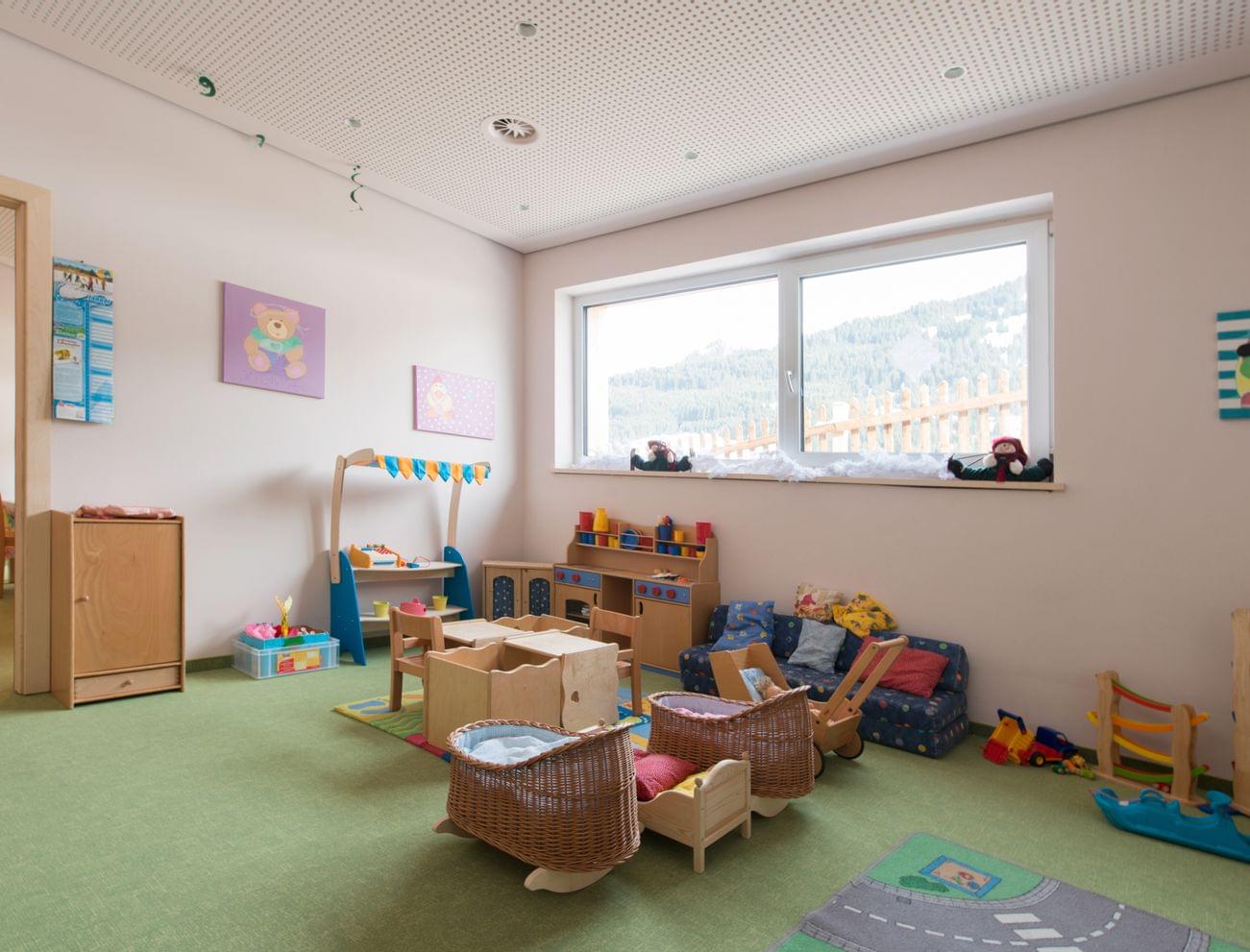 The hotel with childcare
Your family hotel with childcare in Austria
In the Happy Club at the Alphotel - your family hotel with childcare in Austria - it's not only fun and cheerful to visit, but up to 6 trained childminders care about the well-being and fun of your child. Our goal is not to educate your children at the Happy Club, but as the name suggests, to guarantee "happy vibes" with the kids and to give them an interesting, humorous, fun-filled but well-protected holiday. Fun and joy come first. However, some rules are necessary for a good, joint livelihood and for a balanced, relaxed atmosphere. In short, our common goal is laughing children's faces!
Our Happy Club - for happy children
In the hotel in Austria with childcare.
Rosy cheeks and bright eyes - and a happy bunch of little rascals that sleepily floats into the dreamworld in the evening - that is our goal. That's why our trained childminders offer our little Alphotel guests a fun, varied programme. A lot of activities take place outdoors in the nature, so that the children can have lots of fresh air and experience the alpine mountain flare.
The Alphotel Happy Club is an essential part of the offer in our child-friendly hotel. On an area of more than 500 m² you will find the play and crafts room, our baby area with changing station as well as our romper room with soft play area.
Our current children's programme in the family hotel with childcare

Childcare times summer:
Daily from 0 years from 9:00 am to 4:00 pm
From 2 years additionally from 6:00 pm to 8:30 pm
Winter childcare hours:
Daily from 0 years from 9:00 am to 4:00 pm
From 2 years additionally from 6:00 pm to 8:30 pm
Children's dinner with the Happy Club
12:00 pm lunch buffet.
3:00 pm small snack break at the cake buffet.
6:00 pm - 6:30 pm children's table at the children's buffet. (No extra care will be provided at the Happy Club during dinner with the childminders).
HIPP - Baby Food In the parents' kitchen you will find formula, jars of food and baby porridge for your very little ones.
Which family-friendly hotel in Austria offers childcare?
From what age does the Alphotel child-friendly hotel offer childcare?